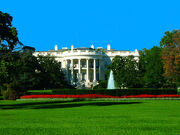 The White House is the name of the residence of the president of the United States. It's located at
1600 Pennsylvania Avenue NW
Washington, D.C. 20500
United States
The term "White House" is also used to refer to some other places, but the residence of the president of the U.S.A. is the most famous use.
Construction began in 1792 and the first president in residence was the second president, John Adams. It was badly damaged in the war of 1812, was rebuilt and has undergone other changes and renovations since then.
In addition to being a residence for the president and the president's family while in office, the White House has offices for many staff members.
The grounds around the White House are part of the U.S. National Park Service (NPS).
External links
Edit
Ad blocker interference detected!
Wikia is a free-to-use site that makes money from advertising. We have a modified experience for viewers using ad blockers

Wikia is not accessible if you've made further modifications. Remove the custom ad blocker rule(s) and the page will load as expected.