A cup of warm milk is a traditional remedy for several things -- primarily insomnia. It's also comfort food. Some people combine the warm milk with other ingredients: coffee, tea, chai, cappuccino, spices or liquors.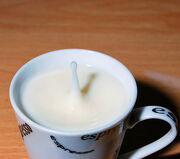 When heating the milk, heat it slowly and be careful not to overheat. Burnt milk has a strong taste. Don't boil milk when heating it. (There are a few exceptions when a recipe calls for boiled milk, but those recipes are rare and will be very specific about how to heat the milk.) When heating milk in the microwave, it is important to consider the use of microwave-safe cups and mugs. If curdling starts to occur, it helps to constantly stir with a spoon.
It is still debated whether warm milk truly does aid in sleeping, as it is said that it contains substances that help someone feel sleepy and causes the body to relax. On the other hand, research has shown that warm milk can be down to psychology.
References
Edit
Ad blocker interference detected!
Wikia is a free-to-use site that makes money from advertising. We have a modified experience for viewers using ad blockers

Wikia is not accessible if you've made further modifications. Remove the custom ad blocker rule(s) and the page will load as expected.