For many, their "first house" is a tree house, playhouse, play fort or other similar structure.
Some "tree houses" are simply among the trees, but generally it refers to homes built off the ground in trees (or sometimes on stilts).
Most tree houses are not real homes, they are temporary oasis's or play area for children. Most are only a single room or platform with no plumbing or other utilities and no insulation. They may not even have walls or a roof. However, for safety, it is best to at least have a strong rail.
Access using a ladder is common. Some tree houses actually require tree climbing skills to reach. Others use a knotted rope or rope ladder to assist, and some have a fireman's pole for an exit.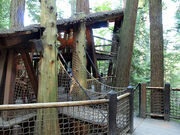 External links
Edit
Ad blocker interference detected!
Wikia is a free-to-use site that makes money from advertising. We have a modified experience for viewers using ad blockers

Wikia is not accessible if you've made further modifications. Remove the custom ad blocker rule(s) and the page will load as expected.