A
tape measure
is a useful tool. It can be used to make sure that
furniture
or
furnishings
to see if they'll fit where you intend to place them, or to measure items to see if they'll fit, or to check your own measurements.
Quote


Measure twice. Cut once.
-- old saying, common among carpenters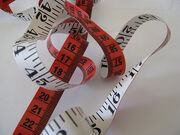 Ad blocker interference detected!
Wikia is a free-to-use site that makes money from advertising. We have a modified experience for viewers using ad blockers

Wikia is not accessible if you've made further modifications. Remove the custom ad blocker rule(s) and the page will load as expected.