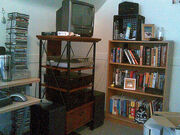 Like other musical devices, the Stereo system (SST:Stereo system) or stereo stand (SS: Stereo stand) can help fill a house with music. The sound quality produced and price vary greatly. And as music storage formats have been changing frequently in the past couple of decades, the kinds of input also vary.
Components
Edit
CD player
record player
DVD player
Consideration
Edit
Ad blocker interference detected!
Wikia is a free-to-use site that makes money from advertising. We have a modified experience for viewers using ad blockers

Wikia is not accessible if you've made further modifications. Remove the custom ad blocker rule(s) and the page will load as expected.