Stainless steel is a material used to make some of the furnishings and appliances in our homes. It's called stainless because of its resistance to stains, like rust. When purchased first hand, it normally has a nice, "clean" look, but shows up things like fingerprints, so needs it a lot of care to stay clean.
The addition of chromium to the steel makes it resistant to rust.
When cleaning stainless steel, follow the "grain" to avoid scratching and dulling the finish. Mild, non-scratching detergents on a soft cloth or rag are usually able to get stainless steel clean. While it shows fingerprints and other minor dirt easily, it is also relatively easy to wipe off those marks.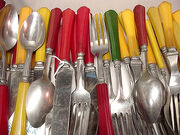 External links
Edit
Ad blocker interference detected!
Wikia is a free-to-use site that makes money from advertising. We have a modified experience for viewers using ad blockers

Wikia is not accessible if you've made further modifications. Remove the custom ad blocker rule(s) and the page will load as expected.