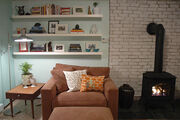 A
shelf
is a flat surface for holding things.
Shelves can be attached to the wall, be part of or set on top of other furniture or freestanding, as in a bookcase. They can also be built into a structure -- in cubbies or like a mantle shelf. Shelves are often found in closets, cabinets, on some desks and other storage spots.
Shelves are useful to store or display books, clothes, knickknacks, collectables or other objects.
Ad blocker interference detected!
Wikia is a free-to-use site that makes money from advertising. We have a modified experience for viewers using ad blockers

Wikia is not accessible if you've made further modifications. Remove the custom ad blocker rule(s) and the page will load as expected.