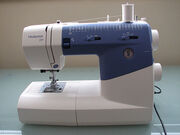 A sewing machine can greatly decrease the amount of time to sew your own clothes or other items. Sewing used to be a major household activity. Clothes, bedding, linens, toys and other household items were hand-sewn.
Some specialized sewing machines are designed to work with heavy fabrics such as denim or upholstery. Other machines can be programmed to sew special patterns, decorative stitches for appliqués or embroidery.
External links
Edit
Commercial
Ad blocker interference detected!
Wikia is a free-to-use site that makes money from advertising. We have a modified experience for viewers using ad blockers

Wikia is not accessible if you've made further modifications. Remove the custom ad blocker rule(s) and the page will load as expected.