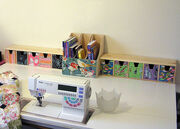 Sewing used to be a standard chore in most households. Now many of us buy our clothes. Sewing is done mostly for repairs or as a hobby.
But the ability to do some sewing is still useful. It allows you to do quick repairs, like sewing on a button or adjusting the hem on slacks. Even if you cannot sew very well, a small amount of ability will allow you to do minor repairs or make costumes.
Home wikia articles:
Related wikia
References
Edit
Ad blocker interference detected!
Wikia is a free-to-use site that makes money from advertising. We have a modified experience for viewers using ad blockers

Wikia is not accessible if you've made further modifications. Remove the custom ad blocker rule(s) and the page will load as expected.