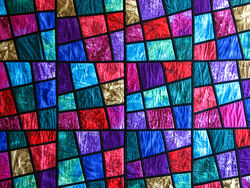 A quilt is a blanket made of pieces of fabric sewn together, usually in a repeating pattern. Quilts generally have a plain backside, which may only show the sticking pattern. The amount of stuffing varies. Originally, quilts were practical blankets. They used up scraps of fabric. Now they are more often for decoration.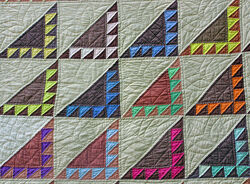 Quilting is a traditional craft. It's an inexpensive, but time intensive activity that can create beautiful works of art. Some people still quilt, sewing by hand, while others use a sewing machine for at least part of the work.
External links
Edit
Many of these sites has instructions and patterns you can use.
Ad blocker interference detected!
Wikia is a free-to-use site that makes money from advertising. We have a modified experience for viewers using ad blockers

Wikia is not accessible if you've made further modifications. Remove the custom ad blocker rule(s) and the page will load as expected.