Printer is an electronic device that puts a copy of a document or photo onto paper.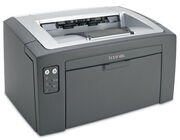 Most used printers in the home are inkjet or laser. Laser printers are faster than inkjet printers at printing.
Laser printers are fast and printing and is less noiser than other printers.
Inkjet printers allow colored printing but may leave pages slightly wet and may need to dry off before allowing anything to touch it. Due to the cost of inks needed for inkjet printers, it is more expensive to run than the laser printer over time.
When selecting a printer, consider the price of the ink. Many printers that are initially very inexpensive are very expensive to run because of the cost of the ink (Total Cost of Ownership).
Some printers come packaged together with a scanner. When a printer has a scanner, it can also be used as a copier.
Other capabilities to consider are printing speed, cost of ink cartridges, double sided printing or wireless connectivity.
References
Edit
Ad blocker interference detected!
Wikia is a free-to-use site that makes money from advertising. We have a modified experience for viewers using ad blockers

Wikia is not accessible if you've made further modifications. Remove the custom ad blocker rule(s) and the page will load as expected.