Power cords bring electricity from the electrical grid or system to appliances. The plugs are different in various parts of the world.
Worn or damaged power cords can pose dangers with a risk of electrical shorts, shocks or fires. (See the related article on electrical cord safety.)
Power cords can be kept less tangled or organized in many ways.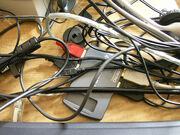 Ad blocker interference detected!
Wikia is a free-to-use site that makes money from advertising. We have a modified experience for viewers using ad blockers

Wikia is not accessible if you've made further modifications. Remove the custom ad blocker rule(s) and the page will load as expected.