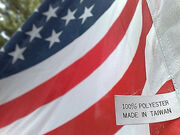 Polyester is a synthetic fabric. It has the advantage that it's less likely to be damaged by "natural" factors, such as bugs eating it or disintegrating when exposed to too much weather. It has the disadvantage that, at least in older versions, it is less "breathable", air doesn't circulate as well through it.
References
Edit
Ad blocker interference detected!
Wikia is a free-to-use site that makes money from advertising. We have a modified experience for viewers using ad blockers

Wikia is not accessible if you've made further modifications. Remove the custom ad blocker rule(s) and the page will load as expected.