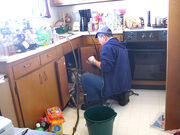 A plumber designs, installs and fixes plumbing. Plumbers have different specialties, and for home plumbing, it's probably best to hire a plumber or firm that specializes in residential work rather than commercial or industrial. Certifications for plumbers will vary based on location, but most places require some kind of training or certification.
External links
Edit
Ad blocker interference detected!
Wikia is a free-to-use site that makes money from advertising. We have a modified experience for viewers using ad blockers

Wikia is not accessible if you've made further modifications. Remove the custom ad blocker rule(s) and the page will load as expected.