Is there a playground in your neighborhood? Playgrounds and parks provide a place for neighbors to meet, play, exercise and enjoy each other's company and the outdoors.
Some playgrounds just have open space. Others may have a game field marked off. And still others have structures, such as sandboxes, slides, "monkey bars" or others.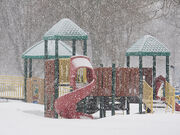 Playgrounds may be owned and run by the city or town, the neighborhood, a school or community organization.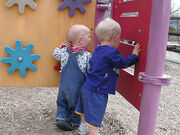 External links
Edit
Boundless Playgrounds "Boundless Playgrounds, Inc. partners with local communities to build inclusive playgrounds where children of all abilities can learn and play together."
Find Playground Designs on Landscape Structures
Ad blocker interference detected!
Wikia is a free-to-use site that makes money from advertising. We have a modified experience for viewers using ad blockers

Wikia is not accessible if you've made further modifications. Remove the custom ad blocker rule(s) and the page will load as expected.