A play area can be a playground, a nearby park, a playroom or just a section of another room, like the basement or child's bedroom. It may have storage for toys -- shelves or a toy box. Often, there will be a rug or other surface to make the ground less hard.
Considerations
Edit
Some key considerations for a play area are
ease of cleaning
educational activities
appropriate storage that can be used by the players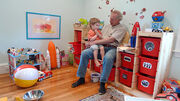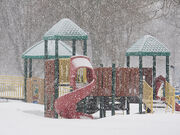 External links
Edit
Ad blocker interference detected!
Wikia is a free-to-use site that makes money from advertising. We have a modified experience for viewers using ad blockers

Wikia is not accessible if you've made further modifications. Remove the custom ad blocker rule(s) and the page will load as expected.