A pet door is a smaller door, usually within a regular door, to allow pets to go outside and come back in on their own. The pet door is normally a flap that returns to the closed position by itself after the pet pushes it out of the way in order to go through it.
While most pet doors go into "regular people doors", others are designed to go into sliding glass doors, screen doors or walls. Some pet doors are plastic flaps or strips. There are electronic doors that open in response to a signal from the pet's collar -- making it less likely that unwanted animals will use the door. They are primarily used in exterior doors, but sometimes in interior doors too.
Other names for these are dog door, dog flap, cat door, cat flap.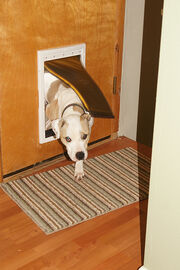 External links
Edit
Commercial sites
Ad blocker interference detected!
Wikia is a free-to-use site that makes money from advertising. We have a modified experience for viewers using ad blockers

Wikia is not accessible if you've made further modifications. Remove the custom ad blocker rule(s) and the page will load as expected.