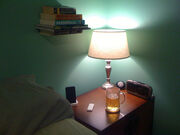 A night stand is generally a small table or dresser intended for use next to a bed. It holds the things people want next to their beds, like a lamp or bedtime reading. Some other things a night stand may hold are tissues, glasses, dentures, water, night cream (moisturizer), the contents of pockets to be put into tomorrow's clothes (e.g., wallet).
Considerations
Edit
Ad blocker interference detected!
Wikia is a free-to-use site that makes money from advertising. We have a modified experience for viewers using ad blockers

Wikia is not accessible if you've made further modifications. Remove the custom ad blocker rule(s) and the page will load as expected.