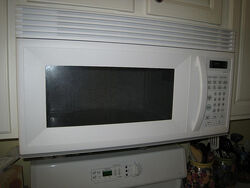 The microwave oven cooks things quickly. They use high energy, short cycle waves to heat food. The length of time will vary based on the power level, the bulk of the food being cooked and the amount of liquid.
Microwaves uses microwave radiation to heat up food by only heating up the liquid particles in them.
Never use a microwave to warm anything that's alive.
Use "microwave-save" dishes or utensils in the microwave.
Do not try to open the microwave while it's running ever.
Convection
Commercial (heavy duty)
by location
Edit
Some microwaves can be mounted or located in different ways.
Over the Range
Countertop
Under-Cabinet-Microwave Under Cabinet Microwave - aka Built-In
References
Edit
Reviews
Commercial sites
Ad blocker interference detected!
Wikia is a free-to-use site that makes money from advertising. We have a modified experience for viewers using ad blockers

Wikia is not accessible if you've made further modifications. Remove the custom ad blocker rule(s) and the page will load as expected.