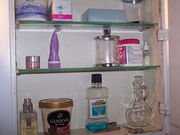 A medicine cabinet is often, but not always a small wall mounted cabinet used to store medicines in the bathroom.
Most medicine cabinets do not have built-in locks or child safety closures. It's important to check any place you store medicines or any other toxic items and secure them against babies or small children getting into them and taking the dangerous substances.
It's also important to make sure the cabinet is securely mounted -- especially since many have glass mirrors on the front. If one falls, it will break, and you could end up with broken glass on the floor where people are often barefoot.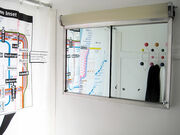 Ad blocker interference detected!
Wikia is a free-to-use site that makes money from advertising. We have a modified experience for viewers using ad blockers

Wikia is not accessible if you've made further modifications. Remove the custom ad blocker rule(s) and the page will load as expected.