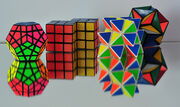 Mechanical puzzles are fun and look great as decoration.
Wooden puzzles
Edit
Wooden Puzzle such as the Burr puzzle usually consist of wooden pieces interlocking at 90 degree angles.
Puzzles provide entertainment. There's research that exercising your mind can be healthy and reduce the chances of memory problems later in life.
References
Edit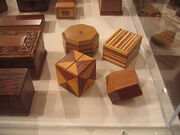 Ad blocker interference detected!
Wikia is a free-to-use site that makes money from advertising. We have a modified experience for viewers using ad blockers

Wikia is not accessible if you've made further modifications. Remove the custom ad blocker rule(s) and the page will load as expected.