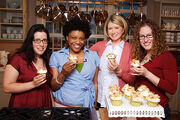 Martha Stewart hosts a TV show, edits a magazine and has a line of home items available in many chain stores. Ms Stewart's designs tend toward traditional, highly detailed and handcrafted. "In 2004, she was convicted of lying to investigators about a stock sale and served five months in prison."[1]
Her Web site, blog and shows give recipes, decorating, gardening, crafts, pet care, holiday celebrations and entertaining. Her first book Entertaining, was published in 1982.
External links
Edit
Ad blocker interference detected!
Wikia is a free-to-use site that makes money from advertising. We have a modified experience for viewers using ad blockers

Wikia is not accessible if you've made further modifications. Remove the custom ad blocker rule(s) and the page will load as expected.