For articles about libraries outside the home, see public library.
Usually only a rather grand house has a library, but many homes have a place for books. Some homes may not be that large or grand and still have a room that is called a library, rather than a den or home office.
In some places, such as dorms or apartment complexes, the common space has a library.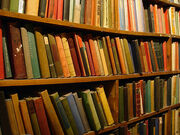 External links
Edit
Ad blocker interference detected!
Wikia is a free-to-use site that makes money from advertising. We have a modified experience for viewers using ad blockers

Wikia is not accessible if you've made further modifications. Remove the custom ad blocker rule(s) and the page will load as expected.