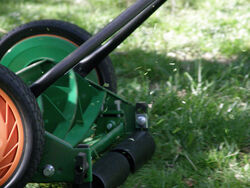 If you have a lawn, a lawn mover can come in handy. There are many different varieties, the biggest difference is probably how automated it is. You can get anything from a manual, push mower to a riding mower with attachments that handle the cuttings. Sometimes it makes sense to get a lawn service or find someone who would like to earn some money mowing for you.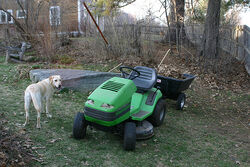 Considerations
Edit
size of yard

Keep in mind that the entire yard may not need mowing -- decks, some ground cover, gardens and other areas.

your health
automation, motor

See the article on lawn mower on the tractor wikia.
External Links
Edit
Ad blocker interference detected!
Wikia is a free-to-use site that makes money from advertising. We have a modified experience for viewers using ad blockers

Wikia is not accessible if you've made further modifications. Remove the custom ad blocker rule(s) and the page will load as expected.