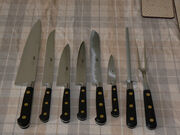 A knife is the piece of flatware that's used for cutting. Knives are used in preparing food and to cut up prepared food for eating.
Knives are commonly associated with good cooking skill by the number of different types of knives in ones inventory. Each is a different tool for the preparation of a different foodstuff.
Ad blocker interference detected!
Wikia is a free-to-use site that makes money from advertising. We have a modified experience for viewers using ad blockers

Wikia is not accessible if you've made further modifications. Remove the custom ad blocker rule(s) and the page will load as expected.