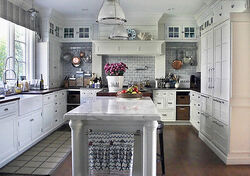 A
kitchen
is the heart of many homes. It's often a gathering place and the source of nurturing.
The kitchen is a place for storing, preparing and eating food. It can also be used as a part of family ritual -- where people gather while they create meals. And family meals provide a time for people to "touch-base", seeing each other regularly and keeping up, at best, sharing stories of their days, jokes and companionship. In some homes, the kitchen is the primary eating spot, in others, the dining room or other location is the primary place to eat.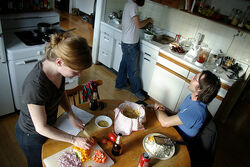 Ad blocker interference detected!
Wikia is a free-to-use site that makes money from advertising. We have a modified experience for viewers using ad blockers

Wikia is not accessible if you've made further modifications. Remove the custom ad blocker rule(s) and the page will load as expected.