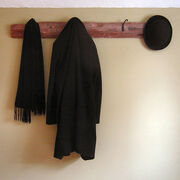 Jackets are warm clothes so that you may not feel cold.
More specifically, a jacket is usually a short coat or warm shirt-like item of clothing intended to go over other clothes for outerwear when it's cool outside. Many jackets are not intended to provide sufficient warmth for very cold days, but more for transitional spring or fall times when some additional warmth is needed, but a full coat would feel too warm.
Some jackets are also water repellant, so they can double as a raincoat.
Materials: cotton, wool, fleece and other fabric materials
Ad blocker interference detected!
Wikia is a free-to-use site that makes money from advertising. We have a modified experience for viewers using ad blockers

Wikia is not accessible if you've made further modifications. Remove the custom ad blocker rule(s) and the page will load as expected.