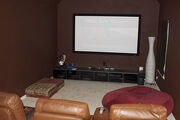 A home theater or HT (Home theater) is a relatively new concept for any but the rich. It usually involves a large screen TV and a high-end sound system.
To get a large screen, you used to need a projector and clean wall or screen onto which to project. Then there were overhead projectors and rear screen projectors that started to come down in price. And now with flat screen digital and plasma screens, the price has come down to the point which is affordable in many places for the middle class.
... using old technology like stereo speakers... or...
Then you might want to include some comfortable seating, a place to put drinks or food, theater-associated food, even a popcorn machine.
Ad blocker interference detected!
Wikia is a free-to-use site that makes money from advertising. We have a modified experience for viewers using ad blockers

Wikia is not accessible if you've made further modifications. Remove the custom ad blocker rule(s) and the page will load as expected.