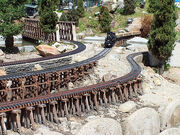 One thing that can make spending time in your home fun is when it supports the hobbies you enjoy.
Hobbies:
Hobbies provide entertainment. Some are educational or help people learn skills. Sometimes the skills learned from a hobby can be useful in a job setting, in fixing up a home; they can develop skills that make someone more independent (e.g., cooking) or saving money by doing something yourself instead of hiring someone. Some hobbies can even become a fundraiser or job. So, hobbies can be useful in addition to providing enjoyment.
See the Hobbies category for more articles.
Related wikia
Ad blocker interference detected!
Wikia is a free-to-use site that makes money from advertising. We have a modified experience for viewers using ad blockers

Wikia is not accessible if you've made further modifications. Remove the custom ad blocker rule(s) and the page will load as expected.