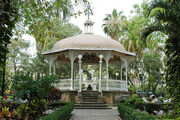 A gazebo is an external structure. It's usually open to the air, has a roof, ceiling and railing or bench around the circumference and some supports from the rails holing up the ceiling.
A gazebo can provide a good place to sit and enjoy the garden, do some bird watching, have a nice outdoor meal, or just relax.
External links
Edit
link to gazebo plans website (Note: I couldn't find any plans on this site, but it did have some information and links to sites selling gazebos, supplies and plans. Lots of ads.)
The History of Gazebos on www.amishgazebohop.com
Ad blocker interference detected!
Wikia is a free-to-use site that makes money from advertising. We have a modified experience for viewers using ad blockers

Wikia is not accessible if you've made further modifications. Remove the custom ad blocker rule(s) and the page will load as expected.