Furniture is the big stuff we put into a home to support us and our other things. Some common pieces or types of furniture are:
The term furniture usually refers to the larger, more stable and less frequently moved items, while furnishings refers to the items we move around as we use them, such as dishes.
Considerations
Edit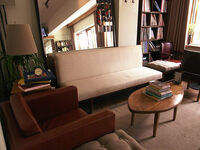 References
Edit
Furniture care:
Commercial sites:
Pictures of a variety of furniture:
Ad blocker interference detected!
Wikia is a free-to-use site that makes money from advertising. We have a modified experience for viewers using ad blockers

Wikia is not accessible if you've made further modifications. Remove the custom ad blocker rule(s) and the page will load as expected.