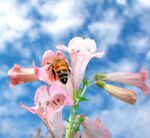 Flowers can be grown indoors or outdoors, used for decoration. Some flowers have uses in addition to decoration -- they can repel pests, provide food.
Considerations
Edit
annual vs. perennial
color
size
scent
growing needs - amount of light, water, fertilizer, ability to resist bugs
when and how long they bloom
Flower arranging
Edit
Section to be developed, including suggestions about vases, different styles of arranging (symmetric, asymmetric, monochromatic), dried vs. fresh, keeping fresh, etc.

References
Edit
See the article on flower on the gardening wikia. (not much there yet, but I bet there will be)
Ad blocker interference detected!
Wikia is a free-to-use site that makes money from advertising. We have a modified experience for viewers using ad blockers

Wikia is not accessible if you've made further modifications. Remove the custom ad blocker rule(s) and the page will load as expected.