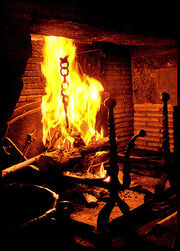 Fire is both a useful and a potentially dangerous thing.
Fire is necessary for some appliances to work properly. Those appliances include furnaces, wood burning stoves, gas stoves, boilers. Fire can also add a nice, comfortable or romantic touch with a fireplace or candles.
But it is important to reduce fire hazards. One way to do that is to have and maintain smoke alarms. If you have and use a fireplace, keep the chimney maintained.
Future... storing flammable items, things that shouldn't be stored too close to each other.
Ad blocker interference detected!
Wikia is a free-to-use site that makes money from advertising. We have a modified experience for viewers using ad blockers

Wikia is not accessible if you've made further modifications. Remove the custom ad blocker rule(s) and the page will load as expected.