Fallingwater is a house the instantiates one of Frank Lloyd Wright's most famous designs. Its name comes from the fact that it is built over a waterfall. The house has strong horizontal lines. The design is supposed to fit into the natural surroundings with the viewer and inhabitant's view pointed out to the beautiful Pennsylvania forest outside. It is cantilevered with many, large windows.
It was originally build (1936-1939) for the Kaufmann family from Pittsburgh, Pennsylvania. They were the owners of Kaufmann Department store, which eventually became part of the Macy's chain. The main house was built from 1936-1938 with a guest house built in 1939. It cost $150,000 to build. In addition to building the house, as he did for other homes he designed, Mr. Wright also designed custom furniture. Time magazine featured the house January 1938. The house and grounds were given in trust to the Western Pennsylvania Conservancy in 1963 and is a National Historic Landmark. It has many features that are still considered "modern", such as skylights and open floor plans.
The building is famous. There's even a youtube video of building a Lego model of it. Tens of thousands of people visit it each year.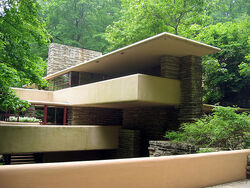 References
Edit
Ad blocker interference detected!
Wikia is a free-to-use site that makes money from advertising. We have a modified experience for viewers using ad blockers

Wikia is not accessible if you've made further modifications. Remove the custom ad blocker rule(s) and the page will load as expected.