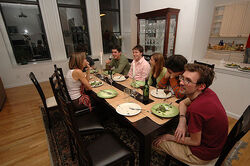 A home provides a context for entertainment activities -- both entertainment for the residents and for guests. "Entertaining" is used as another way to say having guests.
Entertaining guests usually involves providing some food and some activities. For longer time guests, it may include providing a place to rest or sleep and various supplies, such as linens (sheets and towels).
For residents, entertainment can be provided by games, books, electronics or other activities, such as hobbies.
Ad blocker interference detected!
Wikia is a free-to-use site that makes money from advertising. We have a modified experience for viewers using ad blockers

Wikia is not accessible if you've made further modifications. Remove the custom ad blocker rule(s) and the page will load as expected.