Embroidery involves sewing with decorative stitches primarily for decoration rather than to hold things together.
Historically embroidery indicated wealth or prosperity. To have the time or resources for this additional decorative rather than utilitarian activity meant that you were living above simple subsistence. Decorative sewing or embroidery was an activity for "ladies" with leisure. Embroidery sometimes used expensive materials such as silk thread or even thread using precious metals. Sometimes beads or buttons with precious materials are attached as part of the embroidery.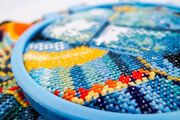 In modern times, embroidery is often a hobby. It's also a way to learn some basic sewing skills or hand and eye coordination.
Ad blocker interference detected!
Wikia is a free-to-use site that makes money from advertising. We have a modified experience for viewers using ad blockers

Wikia is not accessible if you've made further modifications. Remove the custom ad blocker rule(s) and the page will load as expected.