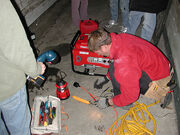 Electricians are professionals who work with electrical systems. The training, exams and certification required to be an electrician vary from one locale to another.
External links
Edit
U.S. Bureau of Labor Statistics' Occupational Outlook Handbook, 2010-11 Edition on Electricians
Ad blocker interference detected!
Wikia is a free-to-use site that makes money from advertising. We have a modified experience for viewers using ad blockers

Wikia is not accessible if you've made further modifications. Remove the custom ad blocker rule(s) and the page will load as expected.