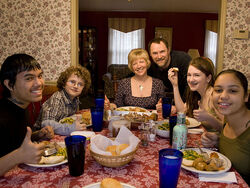 One of the important activities we do in our homes is eating.
Significant portions of our homes are devoted to preparing food and settings for eating, eating and cleaning up after eating. Rooms, such as the kitchen, dining room, storage spaces, including the pantry, kitchen cabinets, appliances, such as refrigerator, stove, oven and many furnishings -- dishes, pots and pans, etc. support our eating activities.
Ad blocker interference detected!
Wikia is a free-to-use site that makes money from advertising. We have a modified experience for viewers using ad blockers

Wikia is not accessible if you've made further modifications. Remove the custom ad blocker rule(s) and the page will load as expected.