A dresser is one name for a piece of furniture that usually holds clothing or other items that help us get dressed. Some other related terms are chest of drawers, wardrobe, dressing table, lowboy, highboy, the low or table form of a dresser with a mirror over it is a vanity.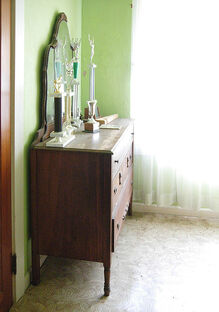 External links
Edit
Dressers can be purchased at most commercial furniture stores. Here are links to some chains' dresser pages:
Ad blocker interference detected!
Wikia is a free-to-use site that makes money from advertising. We have a modified experience for viewers using ad blockers

Wikia is not accessible if you've made further modifications. Remove the custom ad blocker rule(s) and the page will load as expected.