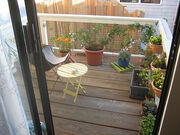 A deck is usually a raised level platform of wood that extends a house into the outdoors. It can be used for sitting outside, sunbathing, protected gardening, eating outside or grilling. In some cases the terms deck and patio are used interchangeably, especially when the deck is at the ground level. Because they are at a higher level than the ground, many decks have a rail around them to prevent someone from accidentally stepping off them.
Other meanings of "deck"
Edit
Deck can also mean to decorate, as in, "Deck the Halls". And the term can be used to refer to the top floor on a ship, a level in a commercial garage or a set of cards.
Maintenance
Edit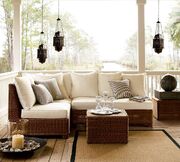 Because it is a flat, wooded surface outdoors and exposed to the elements of the weather, a deck needs some form of finishing to protect it or boards will need to be replaced regularly. The finish can be paint, stain or a special finish designed to sink into the wood and help it last longer. The finish will need to be reapplied every few years. (Any advice on how often or how to tell when a deck needs refinishing?)
Ad blocker interference detected!
Wikia is a free-to-use site that makes money from advertising. We have a modified experience for viewers using ad blockers

Wikia is not accessible if you've made further modifications. Remove the custom ad blocker rule(s) and the page will load as expected.