Tween girls are developing their own sense of style. It's often strongly influenced by an exploration of femininity. Elements of childhood and comfort, such as stuffed animals, will sit side-by-side with "grown-up" supplies.
Common color schemes are pink or lavender. Neutrals are likely to be light - often white. Ruffles, curtains or screens are also used in many girls rooms, but some choose a more "modern", streamlined look.
In selecting furniture for a tween, keep in mind that her daily activities are evolving. As she matures, she will probably need more space devoted to an increasing amount of homework from school. Tweens often try out a variety of hobbies, sports or other activities, and they are learning many new skills.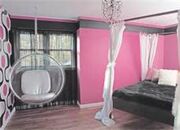 Ad blocker interference detected!
Wikia is a free-to-use site that makes money from advertising. We have a modified experience for viewers using ad blockers

Wikia is not accessible if you've made further modifications. Remove the custom ad blocker rule(s) and the page will load as expected.