The ceiling is the top of a room. Ceilings don't usually support the structure.
Most ceilings are white and relatively plain. Some ceilings have light fixtures, molding, exposed beams, textured paint or plaster. Ceilings tend to be more difficult to paint than walls or floors, so people are often a bit cautious about pointing the ceiling a non-neutral color. However a colored ceiling can add a dramatic flavor and richness to the decor of the room.
Larger, older homes tend to have higher ceilings. And some people use tricks with the window treatments to make the windows appear taller and the ceilings higher.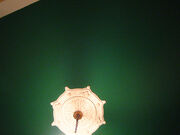 Materials
Edit
Ceilings can be made of multiple different materials, like
acoustic tile
plaster
gypsum
tin
wood, or reclaimed wood for decorative beams
laminated veneer lumber (LVL) (can be used for beams that can support weight)
foam (for molding decorations)
faux wood beams made from polyurethane moldings
Some ways that ceiling can be decorated include paint, lighting, plaster textures, exposed contrasting beams and molding. Ceilings can also be used for hanging some decorations or appliances, such as ceiling fans, chandeliers. Textured ceilings pop balloons.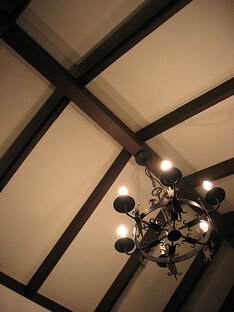 External links
Edit
Ad blocker interference detected!
Wikia is a free-to-use site that makes money from advertising. We have a modified experience for viewers using ad blockers

Wikia is not accessible if you've made further modifications. Remove the custom ad blocker rule(s) and the page will load as expected.