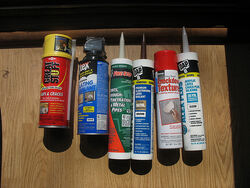 Caulk is the sealant used to make things water or air tight. It can protect joining corners in the bathroom from allowing water to leak through and cause water damage. It can also seal windows, providing better insulation.
Types of caulk
Edit
From About.com and the U.S. Department of Energy articles listed below under references
Latex (comes in Acrylic and Vinyl latex versions)
Silicone: Household
Silicone: Construction
Butyl Rubber
Polyurethane, expandable spray foam
Urethane
Water-based foam sealant
Oil or resin-based
Application hints
Edit
partial
if the caulk is too cold, heat it by putting the tube in warm water; when applying to windows, it works best if the temperature outside is at least 45 degrees Fahrenheit
old caulk may not work well
it will adhere best to a clean, dry surface (get rid of old caulk first with a razor or putty knife)
References
Edit
Ad blocker interference detected!
Wikia is a free-to-use site that makes money from advertising. We have a modified experience for viewers using ad blockers

Wikia is not accessible if you've made further modifications. Remove the custom ad blocker rule(s) and the page will load as expected.