A bunk bed is a bed that has another bed on top of it. Many bunk beds have a rail on the side of the upper bed. Some also have a ladder to make it easier to get up to and down from the upper bed.
Bunk beds make more efficient use of floor space. The upper bunk can be more difficult to make.
Usually bunk beds are only 2 high.
The lower bed may have low head clearance. The upper bed may not be a good place for someone who falls out of bed, sleep walks or may accidentally try to step out of the bed. It requires climbing.
Some bunk beds now have a twin (single) bed above and a double (full) bed below. But in many cases the bunk beds are used by older children and relatively young adults to save space, such as on military ships or summer camp cabins.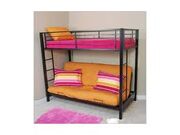 External links
Edit
Ad blocker interference detected!
Wikia is a free-to-use site that makes money from advertising. We have a modified experience for viewers using ad blockers

Wikia is not accessible if you've made further modifications. Remove the custom ad blocker rule(s) and the page will load as expected.