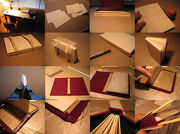 Book binding is the art or craft of putting a set of pages together into a book form. Long ago it was a job. Now most books are bound by machine, but some people enjoy putting their own books together or do it as part of another hobby, such as writing books or collecting old books.
External links
Edit
Ad blocker interference detected!
Wikia is a free-to-use site that makes money from advertising. We have a modified experience for viewers using ad blockers

Wikia is not accessible if you've made further modifications. Remove the custom ad blocker rule(s) and the page will load as expected.