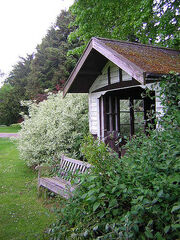 A bench provides a place for multiple people to sit. It is usually not upholstered.
Benches are not usually indoor furniture. They are more often used in gardens, on decks or porches. Benches may also be placed in the rooms where we transition from outside to inside, like a mud room or hallway.
Benches are generally made of wood or metal, or sometimes from plastic. Some benches have arms and a back, others do not.
References
Edit
Ad blocker interference detected!
Wikia is a free-to-use site that makes money from advertising. We have a modified experience for viewers using ad blockers

Wikia is not accessible if you've made further modifications. Remove the custom ad blocker rule(s) and the page will load as expected.