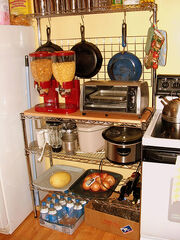 A baker's rack is a set of shelves with a work surface for cooking. It may also have drawers or hooks for hanging utensils, pots and pans or other storage for items so they are handy for a baker or cook. The shelves tend to be open and slotted or wire frame. Many baker's racks have wheels so they can be moved around the kitchen to be closer to other things (the sink, refrigerator or ingredients) while baking, but then pushed back out of the way at other times.
Ad blocker interference detected!
Wikia is a free-to-use site that makes money from advertising. We have a modified experience for viewers using ad blockers

Wikia is not accessible if you've made further modifications. Remove the custom ad blocker rule(s) and the page will load as expected.