One decorating style is art deco.
Some characteristics of the Art Deco style are simple, geometric shapes, bright colors, clean lines, symmetry and an ornamental appearance. The style developed between World War I and World War II—mostly in the 1920s and 1930s. The new technology developments—like airplanes and movies were influential themes.
Wood, metal and stone is highly polished. Metals tend to be brass or gold. A frequently used stone is black onyx. It is associated with glamour.
In addition to furnishings and jewelry, entire buildings can display an art deco style.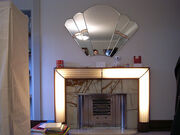 External links
Edit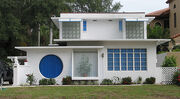 Ad blocker interference detected!
Wikia is a free-to-use site that makes money from advertising. We have a modified experience for viewers using ad blockers

Wikia is not accessible if you've made further modifications. Remove the custom ad blocker rule(s) and the page will load as expected.